17.02.2020
Bunse Lift in TV
Well, we spotted him: on January 5th, a new 'Tatort' (German for Crime Scene, the name for a German crime series) aired and guess who was starring among Til Schweiger and Fahri Yardım: one of our lifts. Unfortunately he did not get the Oscar for best supporting actor and his screen time was, to be honest, quite limited, but he has proven his reliability once again. Below a screen shot: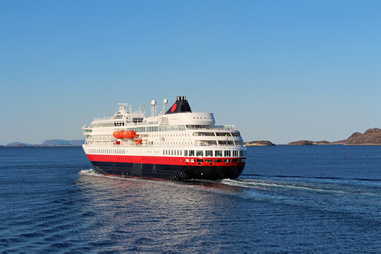 Screenshot from the \"Tatort\" 2020-01-05
Our special thanks to the TV channel NDR, for letting us use this screenshot here!
The most interesting about this lift however is not its short-lived appearance on screen, but its installation. It is located in the boarding school 'Neuwerk am Turm' on the Neuwerk island. This is a tiny island right in the middle of the mud flat, roughly next to Cuxhaven, in the mouth of the Elbe. And it is this location in the mud flat which turned the installation into a real adventure.
The main issue turned out to be the transportation to the island. The renovation and modernization of the boarding school took place during the winter, so it could be re-opened again for the high-season in summer. However, there are no ferries running between the mainland and the island during the off-season.
In order to ensure a regular supply of the small island out of season, there is a wagon that regularly drives through the mudflats on a paved path to the island at low tide. Either pulled by a small tractor or by horses! Nature thereby specifies the time window in which the island can be reached. Below is a picture of the island at low tide:
Isle of Neuwerk Von Ralf Roletschek - Eigenes Werk, CC BY-SA 3.0, https://commons.wikimedia.org/w/index.php?curid=28842137
Our special thanks once more the company Carl Degenhardt, who sold the lift and provided the pictures, and to the company paderlift quehl GmbH, who installed it.